Glen Fuels, sponsor of the King of Greystones Charity Triathlon, Sunday July 30th 2017 and main sponsor of An Tóchar GAA Club is thrilled that Alex Gray has been crowned #KingOfGreystones2017.
Alex completed the triathlon in 1hr 3mins with the time broken down as follows: 750M Swim - 13mins; 20K Cycle - 30mins; 5K Run - 18mins 40secs.
The new extension at An Tochar GAA Club built in December 2016 includes (light-filled with fantastic views) An Tóchar Fitness Centre, which is run by Alex. Alex coaches the U17 boys and mens football teams and the ladies will be training with him before too long.
Everyone in the community is welcome to train at An Tochar Fitness Centre - personal training and group classes cater to all fitness levels and are open to the public (members and non-members) from age 16 upwards (there's no upper age limit mums, dads, grannies and granddads). Classes currently include Bootcamp, Circuits, HIIT, Strength & Conditioning. For more information on all of Alex's services, check out P Squared Performance.
Alex is now training for the Barcelona Triathlon in October and will be making the most of the great facilities available to him at An Tóchar Fitness Centre between now and then.
Fuel for Fisheries
Glen Fuels transports 200L to 37,500L of the highest quality marine fuels, per delivery, along the East and South-East coastline from Dublin to Cork.
Our marine department offers an unrivalled and flexible understanding of your unique needs.
Contact us: sales@glenfuels.com or download an application form.

Farming Special Offer
Feeling the chill working on the farm? Visit GlenFuelsStore.ie for this summer giveaway.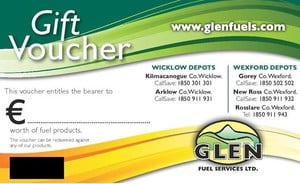 Gift Vouchers
Redeemable in all depots against all products. Call or pop into your local Glen Fuels depot to purchase.