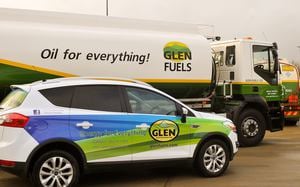 Glen Fuels - Energy for Everything!
Glen Fuels now delivers to more homes, farms, businesses and boats than ever before across counties Dublin, Wicklow, Wexford, Carlow, Kilkenny and Waterford. Each of our five depots has its own website featuring area-specific discounts, competitions and announcements.
In 2015 Glen Fuels became the first and only oil company in Ireland to deliver renewable energy products to homes and businesses nationwide. Your local depot staff can arrange for our sister company, Glenergy, to install clean, silent, cost-saving renewable energy into your premises.
From our family to your family, we look forward to keeping you warm this winter season.