Glen Fuels - Eliminating Big Bills
With depots in Kilmacanogue, Arklow, Gorey, Rosslare and New Ross, the Glen Fuels lorries are in your neighbourhood Monday to Saturday delivering kerosene and gas oil to homes of all sizes. Our delivery routes take in towns and rural dwellings throughout South Dublin, Wicklow, Wexford, Carlow, Kilkenny and North Waterford.
As a Glen Fuels customer (tenant or homeowner) you can can eliminate big one off payments by signing up to:
Home heating oil for less than a cup of coffee at €90/month (€3/day)
Qualify for automatic top-up so you never run out of heating oil
Top-up your account by as little as €20/month (less than €1/day)
Order oil based on the credit you have accumulated
The home heating company you know and trust:
For more than 30 years Glen Fuels has been associated with a friendly, reliable and flexible approach to meeting customer requirements.
Glen Fuels supports local economies with depots in key locations and locally-hired managers, sales staff and delivery drivers. These are people you know and trust to understand the needs of your home and community. The Glen Fuels team is always at the end of the phone, whatever the weather, time of day, or nature of your query. If you have an emergency, please do not hesitate in contacting us.
A finger on the pulse of energy innovation:
Over the decades we have earned a reputation for introducing products and services to the marketplace that become standard in energy distribution. Our earliest example dates back to 1989 when we rolled out the first mini oil delivery truck in Ireland to safely deliver to premises with difficult access.
Our most recent innovation will appeal to home-owners interested in saving money on utility bills and fostering a clean environment. In 2015 we partnered with a number of the world's leading engineers and experts in the renewable energy sector to create a sister company called Glenergy. In doing so, Glen Fuels became the only oil company in Ireland with a renewable energy division that can deliver to homes of all shapes and sizes nationwide.
Enjoy a warm home all day, every day:
If you would like to include your home on the Glen Fuels heating oil delivery route, simply call the depot closest to you and have a chat with a member of the team.
We supply, fit and service green, single skin Kingspan home heating oil tanks that will fit into gardens and side passages of all sizes.
With a state-of-the-art fleet operating out of five depots, you are guaranteed quick response and unrivaled delivery service six days a week.
Eliminate spikes in your home heating oil bills and enjoy a warm home all day, every day with the Glen Fuels Budget Plan.
Set aside a set amount to cover your home heating oil bill each year.

Make regular or adhoc payments and order oil based on the credit you have accumulated.
Let us take the headache out of managing your oil levels - we remember to measure the levels and top you up.
Our OFTEC certified and fully insured technicians service oil boilers nationwide to ensure your home is safe from Carbon Monoxide leaks.
The Glen Fuels Domestic Fuel Card gives you convenience, security, savings and control over your family's cars.
Fill your own drum or pick up a 20 litre prefilled drum of Gas Oil or Kerosene - available at the Kilmacanogue and Gorey depots.
Our depots in Kilmacanogue, Arklow and Gorey stock a wide range of solid fuel products for ranges, stoves and open fires.
Range cookers require just 200ml per 1,000L of kerosene for uninterrupted hours of cooking and heating and reduced char value.
Install world-class, sleek and silent clean energy technologies that result in cost-savings and more home space.
Every Drop, Delivered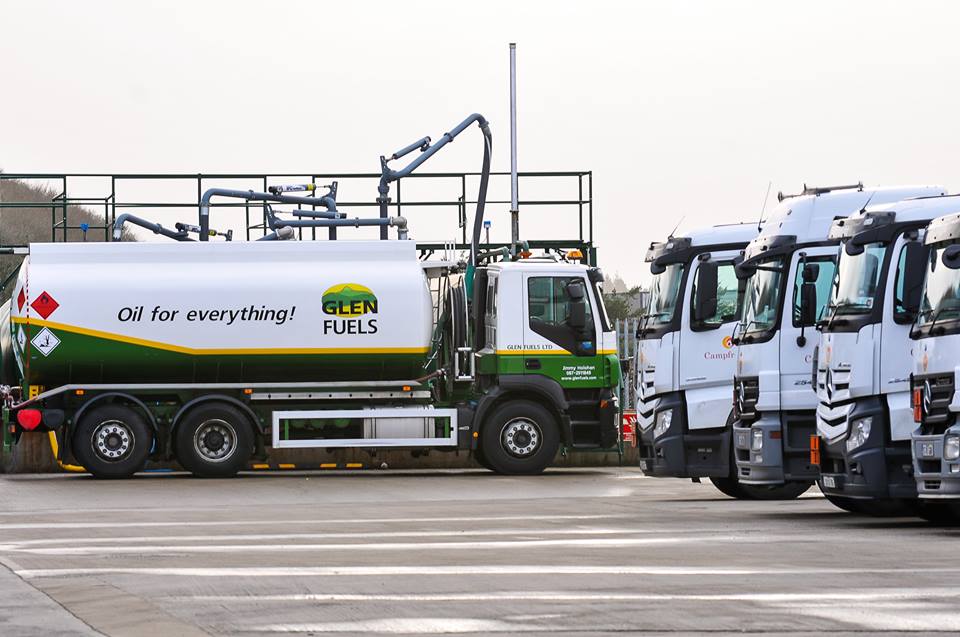 Our drivers arrive on time and every drop of kerosene or gas oil you have paid for is pumped into your tank from our state-of-the-art fleet of lorries with NSAI calibrated metres.
FREE Glen Fuels eBook
"Energy Efficiency in Your Life" is a FREE eBook with hints and tips from Glen Fuels staff to keep your home warm this winter.
FREE Reusable Mug