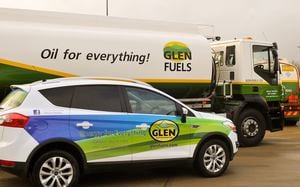 Your goal is to provide your family with a warm home all day, every day!
Glen Fuels has been topping up tanks in Dublin, Kildare, Wicklow, Wexford, Carlow, Kilkenny and Waterford for more than 30 years. Our family-run business is renowned for exceptional customer care, accurate deliveries and competitive payment options.
With a finger firmly on the pulse of your energy requirements, Glen Fuels is the first company in Ireland to deliver oil products and renewable, eco-friendly, energy-saving solutions to homes and businesses nationwide.
From our family to your family: we look forward to keeping you warm all day, every day.










Fuel for Fisheries
Glen Fuels transports 200L to 37,500L of the highest quality marine fuels, per delivery, along the East and South-East coastline from Dublin to Cork.
Our marine department offers an unrivalled and flexible understanding of your unique needs.
Contact us: sales@glenfuels.com or download an application form.