FAQ's
I have eight inches of oil in my tank, will I run out tonight as it's very cold?
You should not run out of oil tonight. You may run out depending on the distance from your tank to your burner, the height differential from your tank to the burner and the capacity of your tank. You should contact your local depot for a delivery as quickly as possible.
What time will the driver be with me?
We contact the driver on your behalf and ask for an ETA.
How long is the hose?
The hose is 50 metres long.
I have got a delivery of oil and my heating will not come on, what can I do?
Your system may have an air lock which means that the system has to be bled.
Our drivers will endeavour to do this for you but he may not be able to re-start the heating system as there maybe another issue with your burner. We will then recommend a heating engineer to look at the system for you.
Can the driver bleed my boiler?
Yes. We facilitate this request, where possible.
If we're unable to do bleed your boiler, we will recommend a qualified heating engineer.
Can you recommend someone to bleed my boiler?
Yes, we recommend Enda Nolan - qualified and experienced plumber who is based at our Kilmacanogue depot.
What is your minimum quantity delivered?
Our minimum order is 200 litres.
Do you deliver to Waterford and Kilkenny?
Yes, we deliver oil to farms, businesses, houses and fishing vessells in East Waterford and South Kilkenny.
To schedule a delivery or to make an enquiry, please contact our New Ross depot.
Do you sell gift vouchers?
Yes, we sell gift vouchers.
You can purchase an e-voucher on our online shop Glen Fuels Store
You can purchase a physical voucher from your local depot which is redeemable in any Glen Fuels depot against any glen Fuels product.
Do you sell and install home heating oil tanks?
We sell single and double skin home heating oil tanks.
We work with a number of OFTEC registered installers.
How much oil does a standard modern house use a year?
This depends on the efficiency of the boiler and whether it is serviced regularly, which is a must.
If you look after your boiler, it will use approximately €1,300 per year worth of oil.
This figure can be halved if you install a newer condensing boiler.
Can I spread my payments?
Yes, we have our Budget Payment Plan facility allows you to pay a set amount each month.
How can I tell how much oil is in my tank at any time?
The most accurate means of tracking your oil levels is with a dipstick which you dip into the tank.
Alternatively we have a full range a gauges at each of our depots and at our online store.

How long will 500 litres/1000 litres of oil last as I haven't used oil before and I'm not sure how it works?
The answer is: every house is different!
Every house is of a different size, build quality, insulation quality and most important of all, air temperature preferences differ from one person to another.
However, we have found that our average customer, in an average, in an average year uses 1,300 litres of kerosene per year.
I am moving my tank. Can you pump out the oil that's in it?
Unfortunately due to health and safety legislation we are not authorised to pump out oil. We do however have a panel of subcontractors who can perform this service for you.
What is the Difference Between Kerosene and Heating Oil?
Kerosene is one type of heating oil. The other type of heating oil is called gas oil. Never mix the two. Always put the correct heating oil into your heating oil tank.
What Notifications are Sent When Oil is Running low?
When oil is running low you will receive a notification on the Magnus™ Monitor app. This will indicate that it is either time to top-up or that your tank has suffered a leak/theft.
Do you have spec sheets?
Please download our spec sheets here.
Are heating oil and road diesel the same?
Road diesel is not the same as home heating oil.
Heating oil is either kerosene or green diesel depending on the heating system.
Road diesel is known as white diesel and must be used in diesel vehicles that use the road network with the exception of agricultural machines which can use green diesel.

Green diesel is used in diesel engines that work off road .
What is Red Diesel?
Red diesel no longer exists in Ireland. We changed from red diesel to green diesel many years ago. The difference between green diesel and red diesel is the colour of dye that is put into the fuel.

What is D.E.R.V Fuel?
D.E.R.V or road diesel (auto diesel) is a diesel fuel that is unmarked and used for mechanical propelled vehicles that use the public roads in Ireland.
What is the Difference Between Gas Oil and Diesel?
The difference between diesel (D.E.R.V) and gas oil is that diesel is for road use and gas oil is for off road and marine use.
What is AdBlue?
AdBlue is a mixture of urea and deionized water and its injected into the exhaust gases to reduce the harmful emissions.
How long does the Glen Fuels Magnus™ Monitor System battery last?
Magnus™ Monitor battery will last 5-8 years depending on usage.
What Happens if You Run Out of AdBlue?
Most cars will give a warning well in advance of this happening but if one continues to drive without replenishing stock, the vehicle will refuse to start.
How Long Does AdBlue Last?
It is supposed to last approximately 18 months if stored in the right conditions.
How long does the Glen Fuel Magnus™ Monitor System take to install?
Using all-weather adhesive it takes between 15-30 minutes to install the Glen Fuels Magnus™ Monitor System on a standard plastic home heating oil tank.
It can take up to 60 minutes to install the Glen Fuels Magnus™ Monitor System on a metal tank as this will require us to drill a hole into the tank.
Is the Glen Fuels Magnus™ Monitor System Installation Covid-19 Safe?
Yes, we are able to install the Glen Fuels Magnus™ Monitor System without coming into contact with you or your loved ones.
What Size Heating Oil Tank Can Take the Glen Fuels Magnus™ Monitor System ?
The Glen Fuels Magnus™ Monitor System is suitable for all size liquid storage tanks (oil, water, milk, liquid feed).
How is the Glen Fuels Magnus™ Monitor System Fitted to the Tank?
During installation, Magnus™ Monitor is applied to the top of the heating oil tank with a plastic, weather-proof adhesive.
What if the Glen Fuels Magnus Monitor System Stops Working?
If the Monitor becomes defective during the Minumum Term we will repair or replace the Monitor at no cost to you.
If you, or a third party, have interfered with the Monitor, causing damage, interference or obstruction, you will be liable for the full repair/replacement costs.
Does the Glen Fuels Magnus™ Monitor System Protect Against Heating Oil Theft?
Yes, the Glen Fuel Magnus™ Monitor System sends out "theft" and "unnoticed leak" alerts.
Who Installs and Maintains the Glen Fuels Magnus™ Monitor System on My Heating Oil Tank?
Glen Fuels installs the Glen Fuels Magnus™ Monitor System to liquid storage tanks (oil, water, milk, liquid feed).
What Does Glen Fuels Budget Plan Do?
By calculating how much you spend on home heating oil in a year and dividing this figure by 12 months, you allocate a set amount of money each month to cover your annual home heating bill.
How Much Does Glen Fuels Budget Plan Cost?
When you sign up to Glen Fuels Budget Plan, you are required to pay a once-off €300 security downpayment.

The direct debit then calls a minimum of €90 each month (based on the average heating oil household usage of 1,300 litres/annum).
Does Glen Fuels Budget Plan Require a Security Deposit?
Yes, a once-off security downpayment of €300 is required. This helps cover the cost of your first 500 litre order.

When Do I Sign Up to Glen Fuels Budget Plan?
The Glen Fuels Budget Plan officially runs from July 1st – 30th June each year. You can sign up anytime during the year.

Who installs the Glen Fuels Magnus Monitor?
A Glen Fuels contractor will install your Magnus Monitor
When is the Glen Fuels Budget Plan Direct Debit Called?
You instruct us to call the direct debit on either the 5th or 20th of each month.
Will I Receive Regular Glen Fuels Budget Plan Statements?
Customers that provide an email address, receive a monthly statement.
Where we do not have an email address, we post out a statement twice a year.
How Much Does Heating Oil Cost on the Glen Fuels Budget Plan?
The price you pay for heating oil is the price quoted on the day of delivery.
When Can I Cancel the Glen Fuels Budget Plan?
You may cancel the Glen Fuels Budget Plan at any stage by advising Glen Fuels and your bank, in writing, of your intention to do so.
You will be required to pay any outstanding debit balance on your account.
Benefits of a Fuel Card
The Glen Fuel Card Benefits Include:
Suitable for personal and business use

Applicable to motorcycles, cars, jeeps, vans, trucks and lorries

Fixed weekly charge (price changes every Monday)

Cash free payment at the pump

Fortnightly direct debit payment

Cash-flow control

Pin security

Free sign-up

No minimum usage

​​Exclusive Glen Fuels prices at Glen Fuels depots

Competitive petrol, diesel, marked gas oil and AdBlue prices at at 400+ service stations nationwide.

Driver and fuel fraud security
Where can I use my Glen Fuel Card?
The Glen Fuel Card is valid at:
Best Fuel Card in Ireland
We believe the Glen Fuel Card is the best independent fuel card in Ireland.
It is accepted at all Circle K service stations nationwide.
Users receive the Glen Fuels fuel discount at point of payment.
It can be used at all five Glen Fuels depots and Truck Stops.
It is valid at Glen Service Stations.
Disadvantage of Fuel Card
We don't see any disadvantage to using a fuel card. The Glen Fuel Card offers the user a fuel discount at more than 400 service stations nationwide.
How to Apply for a Fuel Card
To apply for our business fuel card, click here.
To apply for a fuel card for personal use, click here.
How do Fuel Cards Work
A Glen Fuel Card looks and works like a credit card. You fill your tank, insert the card and key in your pin number. The fuel has now been paid for.
Glen Fuels gives users two weeks interest free, which means the amount on the Glen Fuel Card is paid twice monthly by direct debit.
By keeping all your fuel transactions on one card, you can monitor and adjust your personal or business fuel use.
Glen Fuel Card holders also receive exclusive Glen Fuels discounts at the pump.
Is Kerosene home heating oil?
Yes, kerosene is generally called home heating oil. At Glen Fuels we sell both kerosene and gas oil to our home heating customers. It is important you know which fuel your home heating system works on.
What is Home Heating Oil?
Oil fired heating systems use home heating oil to heat water and radiators.
What are Home Heating Oil Types?
SFGO and kerosene are the two heating oil types used in Ireland and sold by Glen Fuels.
What is the Average Cost to Heat a Home with Oil?
The average house costs €1,300/year to heat with oil.
What is Spot Price Heating Oil?
Spot Price on SFGO and kerosene is the market oil price on the day of delivery.
Spot price fluctuates in response to global political and economic activities.
Can You Mix Kerosene and Heating Oil?
Kerosene is heating oil. If your heating system uses kerosene, you must never mix it with another fuel.
Do you sell home heating oil near me?
Glen Fuels delivers home heating oil to all areas in South Dublin, Co. Wicklow, Co. Wexford, East Waterford, South Carlow and South Kilkenny.
What are the types of home heating?
Glen Fuels sells kerosene and gas oil for oil heating systems.
Our sister company, Glenergy, sells renewable energy technology such as heat pumps, CHP units and solar panels which also heat water and radiators.
What is OFTEC?
OFTEC establishes the standards for competence within the domestic oil heating and cooking industry by ensuring the quality of the people and businesses working in this industry in the UK, the Republic of Ireland and Europe.
Promote excellence by setting standards for manufacture, installation and maintenance of oil-fired appliances for domestic use;
Produce technical information for the installation and/or commissioning of oil boilers, oil storage tanks and related equipment;
Publish technical standards for domestic oil heating equipment;
Issue OFCERT© certificates to validate products manufactured in accordance with the OFTEC standards;
Represent the views of the members to UK and Irish Governments, to the European Commission, to the Building Research Establishment, British Standards Institute/CEN (the European Committee for Standardisation), the Environment Agency and to other bodies;
Provide recognised training and assessment of installers through OFTEC-approved centres for training and maintains a register of technicians under the competent persons scheme'
Inform consumers and technicians about the benefits of using oil (kerosene and bioliquids).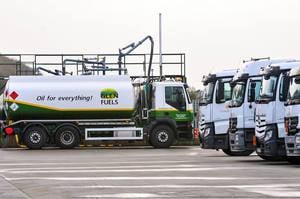 Every Drop, Delivered
Glen Fuels policy and technology ensures every drop of kerosene or gas oil you have paid for is pumped into your tank.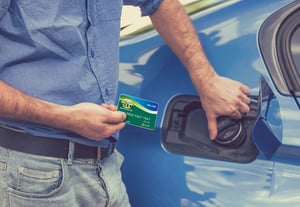 Eliminate Fuel Fraud
Glen Fuel Card:
Fuel fraud software
Driver security software
Detailed invoicing
Exclusive pump prices
Fixed weekly price
No hidden charges
Accepted nationwide
Match card to car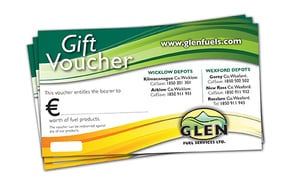 Gift Vouchers
The Glen Fuels gift voucher is an ideal house warming, Christmas, Mother's Day, Father's Day or birthday gift.
It is redeemable in all depots and it's very popular with heating oil customers.
The voucher can be posted to you or you may collect it from your local Glen Fuels depot.
Contact your local Glen Fuels depot to purchase.