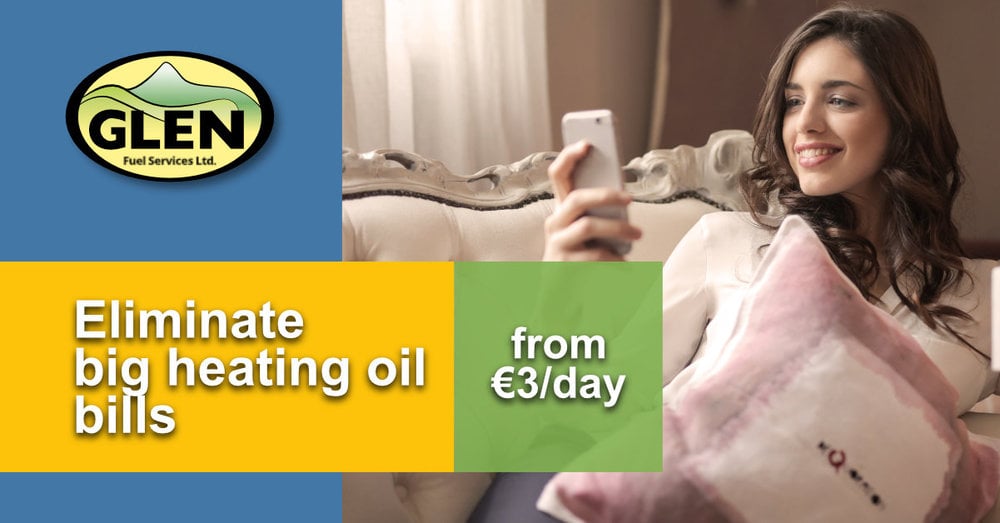 Budget Plan Homeowners:
Budget Plan pay monthly home heating oil plan is our most popular product. Budget 90 is for homeowners.
A €300 down payment entitles you to 500 litres of heating oil
Direct debit of €90 (€3.00 a day) is called on the 5th or 20th of each month - you select the date
We will deliver the next 500 litres of heating oil after we have received two consecutive direct debits. All future deliveries are covered by your monthly payments
The price you pay is the price quoted on the day of delivery.
All deliveries are capped at 500 litres. If you wish to order a higher value, you are required to (a) have sufficient credit in your account, (b) pay the difference when placing the order, or (c) increase the direct debit if there are enough months left in the Budget Plan year
Exclusive to Budget 90 Customers:
Spread the cost of your annual

boiler service

over 12 months. A serviced boiler saves you money by burning less fuel

Reduced petrol/diesel with the Glen Fuels Family

Fuel Card
Start Saving Today:
The staff at your local Glen Fuels depot (Kilmacanogue, Arklow, Gorey, Rosslare, New Ross) will be happy to answer any questions you may have about the Glen Fuels Budget Plan.
If you've already decided that this is the right option for you, please print pages 2 & 3 of the application/direct debit mandate form. When you have completed all the fields, please post it to Glen Fuel Services Ltd. Accounts Department, Croghan Industrial Estate, Arklow, Co. Wicklow. To download the Budget Plan application form, click here.
Alternatively, you may be interested in our Winter Fund payment plan.
New and existing customers who transfer onto the Budget Plan or Winter Fund packages will receive a FREE bespoke, limited edition Glen Fuels reusable travel mug.
---
Notice: Oil is a product that responds to economic and political activity. We reserve the right to alter the terms and conditions, including the deposit and direct debit amounts, in response to market activity. Please check this page regularly for any changes.
FREE Reusable Mug
DRIVERS WANTED
Glen Fuels is hiring full-time oil tanker driver/salespersons to cover our Gorey, Rosslare and New Ross depots.
Our three Wexford depots deliver to all parts of Co. Wexford, South Wicklow, East Kildare, East & South Carlow, South Kilkenny and East Waterford.
Please email sales@glenfuels.com with your CV.
70% Cheaper Hot Water
Hot water heat pump. Super easy to install. Ideal for homes and dairy farms. Renewable energy reduces bills. Reduced to clear. GlenFuelsStore.ie