CASE STUDY: AirGO and Ecotank Heat Pumps
Horse and Hound
Client Objective:
The Horse and Hound Pub in Delgany, was renovated and expanded to include a guest house. Glenergy was commissioned to provide space and DHW heating solutions for the building that would support a business operating in the hospitality sector and which could be retrofitted to work with a building that was originally constructed in ca. 1790.
Solution:
The AirGO heat pump system was perfect for the Horse and Hound. Combining the advantages of air to water heat pump technology with geo thermal energy in a low maintenance package, the system easily bolted on to the existing heating system.
There are no fans in the AirGO and with fewer moving parts, the client has less to worry about. Combined with Glenergy's low profile underfloor heating system the AirGO system keeps the entire Horse and Hound building at a constant 200C, which is something guests find remarkable.
Hot water is incredibly important to the Horse and Hound both in the pub and restaurant and in the guest house. We installed three x 300L Ecotank Hot Water Heat pumps that supply hot water to the building. The heat pump process also produces cooled air as a by-product, which is channeled to provide free cooling to the keg and bottle store.
Results:
AirGO heating running costs are 50% cheaper than using oil or LPG.
Hot water production costs are reduced by 66% with the Ecotank Hot Water Heat Pumps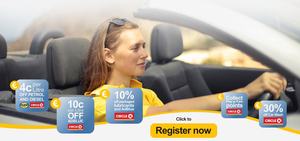 Glen Fuel Card - Personal
Discounts:
Cheap petrol and diesel
AdBlue, lubricant, carwash
Accepted at:
Circle K nationwide
Glen Fuels service stations
For commuting, play dates, general running around.
Terms and conditions apply.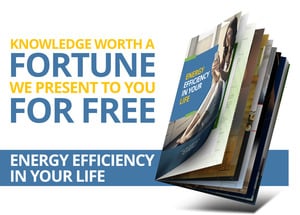 Reduce Energy Costs
Insulation
Oil and Renewable Central Heating
Energy Rated Appliances
Kick the Car to the Curb
Generate Your Own Energy
The Cost of the Little Red Light
To download your FREE Glen Fuels eBook, click here.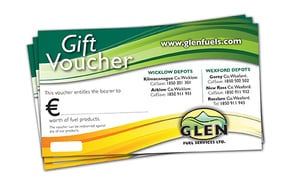 Gift Vouchers
The Glen Fuels gift voucher is ideal for:
Christmas, Mother's Day, Father's Day, house warming, birthday, get well soon, new baby and christenings.
Redeemable in all depots, the heating oil gift voucher is very popular.
Purchase from your local Glen Fuels depot.