CASE STUDY: Dairy Farm Hot Water Heat Pump
Mr. Joe O'Brien - Dairy Farmer - Limerick
Client Objective:
To reduce the water heating electricity bill using a sustainable energy source - the previous system was an electric water heater with 1x3kW electric immersion, which is a very common system used on dairy farms in Ireland today; but it is the most expensive one to run.
Solution: Dairy Farm Hot Water Heat Pump
Our hot water heat pump uses the ambient air temperature to generate heat to heat water. It is simple to install and is three times more efficient than an electric immersion heater. In Joe O'Brien's milking parlor, the heated air around the condenser is extracted and used by the heat pump to produce hot water.
Results:
66% reduction in electricity bills - an energy meter measures electricity consumption and Joe's electricity bills fell by 66% from €1,134 to €378 per year.
More hot water means excellent TBCs and consistent production of premium grade milk.
This system will payback in 4 years.
Greenhouse gas emissions reduced by 2300kg/CO2 per annum.
System Costs:
Cost: 300L unit €3,950 ex VAT installed
10% discount to Origin Green Members: €395
Dairy Equipment Scheme Grant: €570 approx.
Final Cost: €2,985 ex VAT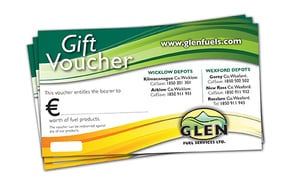 Gift Vouchers
The Glen Fuels gift voucher is ideal for:
Christmas, Mother's Day, Father's Day, house warming, birthday, get well soon, new baby and christenings.
Redeemable in all depots, the heating oil gift voucher is very popular.
Purchase from your local Glen Fuels depot.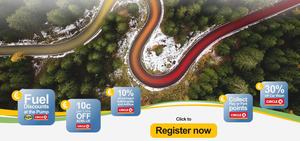 Glen Fuel Card - Commercial
Discounts:
Cheap petrol and road diesel
AdBlue, lubricants, car wash
Accepted at:
Circle K nationwide
Glen Fuels depots
Glen Fuels truck refuel stops
Glen Fuels service stations
For corporations, SMEs, sole traders.
Terms and conditions apply.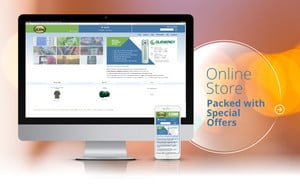 Delivering Nationwide
Range Cooker Additive
Lubricants
AdBlue
Oil Tanks
Diesel Storage Tanks
Magnus™ Monitors