Blog » New Ross » Glen Fuels Inspires Finalists in the UNESCO Young Environmentalist Awards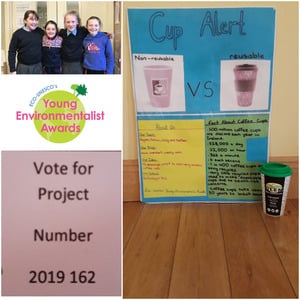 "Cup Alert" UNESCO Young Environmentalist Finals
Four girls from fifth and sixth classes in St Colman's School Ballindaggin are in the running to win an award at the UNESCO Young Environmentalist Awards in the National Convention Centre on May 23rd.
To vote for Cup Alert:
Please visit https://www.yea.ie/blog/yea19-people-s-choice-award-vote-now
Scroll down just over half way to St Colman's N.S. Ballindaggin: 'Cup Alert'
Click "vote for me" and enter the following numbers: 2019 162
Voting lines close at midnight on May 19th.
100% Recyclable Coffee Cups
In 2018 Glen Fuels launched the reusable, fully recyclable coffee cup for our staff and pay monthly customers.
Keelan Hipwell and her environmentally conscious friends Heather, Libby and Kaylee saw the Glen Fuels mug make its daily commute from the dishwasher to the kettle to the car to the office and home again.
The girls launched "Cup Alert" to change coffee cup usage and consciousness in their local communities.
"Dad was coming home with the reusable cup from Glen Fuels and we were seeing coffee cups that had been thrown into ditches along the roadside", said Keelan Hipwell who wants to see a ban on non-recyclable coffee cups.
Honest Facts...
An article in The Journal offered the facts and figures:
200 million coffee cups are thrown in Irish bins each year which equals

528,000 a day
22,000 an hour
366 a minute
6 per second

1 in 400 disposable coffee cups are recycled
A video on the Independent.co.uk explains that disposable coffee cups are not recyclable because:
they're contaminated with fluid (tea, coffee, milk) which recycling centres don't accept;
to make the paper waterproof a film of non recyclable plastic polyethylene is bonded to the paper.
...Honourable Change:
The girls visited six coffee retail outlets armed with posters (pictured) which were displayed publicly for four weeks, questionnaires for the managers and a comments box for the customers. Here's how they fared:
The Baked Potato, Enniscorthy:
This coffee shop now sells reusable coffee cups and offers a discount to those who bring their own cup.
Toffee Time, Enniscorthy:
This coffee shop now sells reusable coffee cups and stocks paper straws only.
Sugar & Spice, Bunclody:
This coffee shop now sells and accepts reusable coffee cups.
Bowes Shop, Kiltealy
Now allows customers to bring their own coffee cups and has three bring-their-own customers a day.
Insomnia, Eurospar, Bunclody:
As a multinational chain, this coffee shop was already selling and offering discounts to customers using reusable coffee cups (approx. 10/day).
Maxol, Enniscorthy:
This multinational operator was already using and accepting reusable coffee cups.
Now Delivering Nationwide


Range Cooker Additive, Lubricating Oils, AdBlue, Heating Oil Tanks, Diesel Storage Tanks, Water Softeners, Underfloor Heating and much more are available at GlenFuelsStore.ie
Fuel Your Fleet
The Glen Fuels Fuel Card guarantees exclusive prices on petrol, diesel, marked gas oil and AdBlue.
The Glen Fuels Fuel Card is valid at Glen Fuels depots and Circle K nationwide.
The Glen Fuels Fuel Card gives you - the business owner - full control over company expenses.
Heat Your Home for Less - Glen Fuels Top Tips
Tips and tricks to make your home a more energy and money efficient dwelling.
Save money around the house
Cut the cost of your commute
Tried and tested recommendations from Glen Fuels staff
To download your FREE copy, click here.