Pages tagged with "new ross"
In News:
In Articles:
Your Warm Home
Our family-friendly payment options are designed so you can enjoy a warm home all day, every day!
Fuel for Fisheries
Glen Fuels transports 200L to 37,500L of the highest quality marine fuels, per delivery, along the East and South-East coastline from Dublin to Cork.
Our marine department offers an unrivalled and flexible understanding of your unique needs.
Contact us: sales@glenfuels.com or download an application form.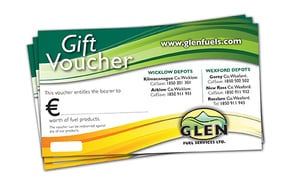 Gift Vouchers
Redeemable in all depots against all products. Call or pop into your local Glen Fuels depot to purchase.