News » Ireland's Storms 2018/19
2018-09-21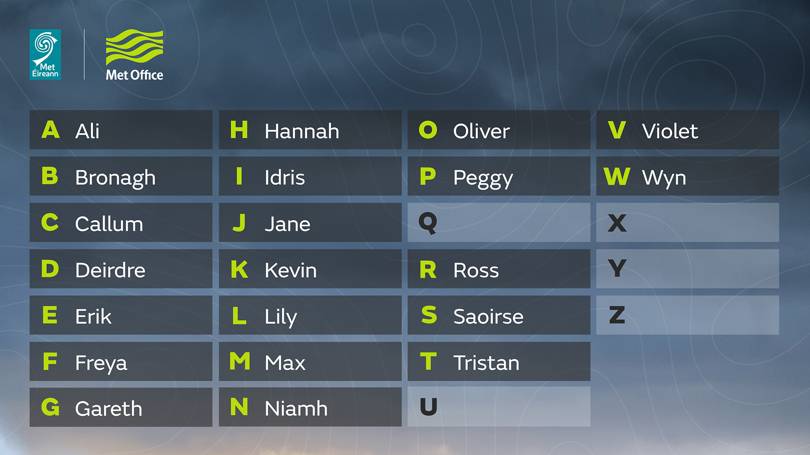 Naming Ireland's Storms
Over the last few years Irish winters have lurched from one storm to another. On September 19th we had Storm Ali who caused two fatalities. On September 20th we had Storm Bronagh and on September 21st Met Eirean and the UK Met Office were closely monitoring another weather system to be called Storm Callum.
Fortunately Met Eireann has said Ireland will escape his wrath.
You may have noticed that the storms of recent years have been given names. This was an approach taken by Met Eireann and the UK Met Office to help us laypeople differentiate between one weather system and another as one storm often follows hot the heels of the one before.
How are storms named?
In 2015 the two Met offices used social media to invite the general public to submit names. They collected a list of 10,000 potential names.
When a possible storm is seen to be approaching it is assigned a "danger" rating and this rating determines if the weather system will be named. In Ireland, a weather system that falls into the orange and red categories will be given a name. In some instances, yellow category weather fronts will also be given a name.
What are Winter 2018/19 Storm Names?
September marks the start of the storm season and earlier this month the UK Met Office and Met Eireann selected 21 names from the 10,000 submissions, which are:
Ali
Bronagh
Callum
Deirdre
Erik
Freya
Gareth
Hannah
Idris
Jane
Kevin
Lily
Max
Niamh
Oliver
Peggy
Ross
Saoirse
Tristan
Violet
Wyn
Top-Up Today:
Don't let your heating oil tank run dry this stormy season. Contact your local Glen Fuels depot and ask the staff about the cheapest ways to pay for top quality home heating oil - the Budget Plan and the Winter Fund are available for homeowners and renters. You can also keep an eye on the weather on the east and south-east of Ireland, click here.
Glen Fuels - Energy for Everything