News » Wicklow Hospice Moonlight Walk
2017-01-25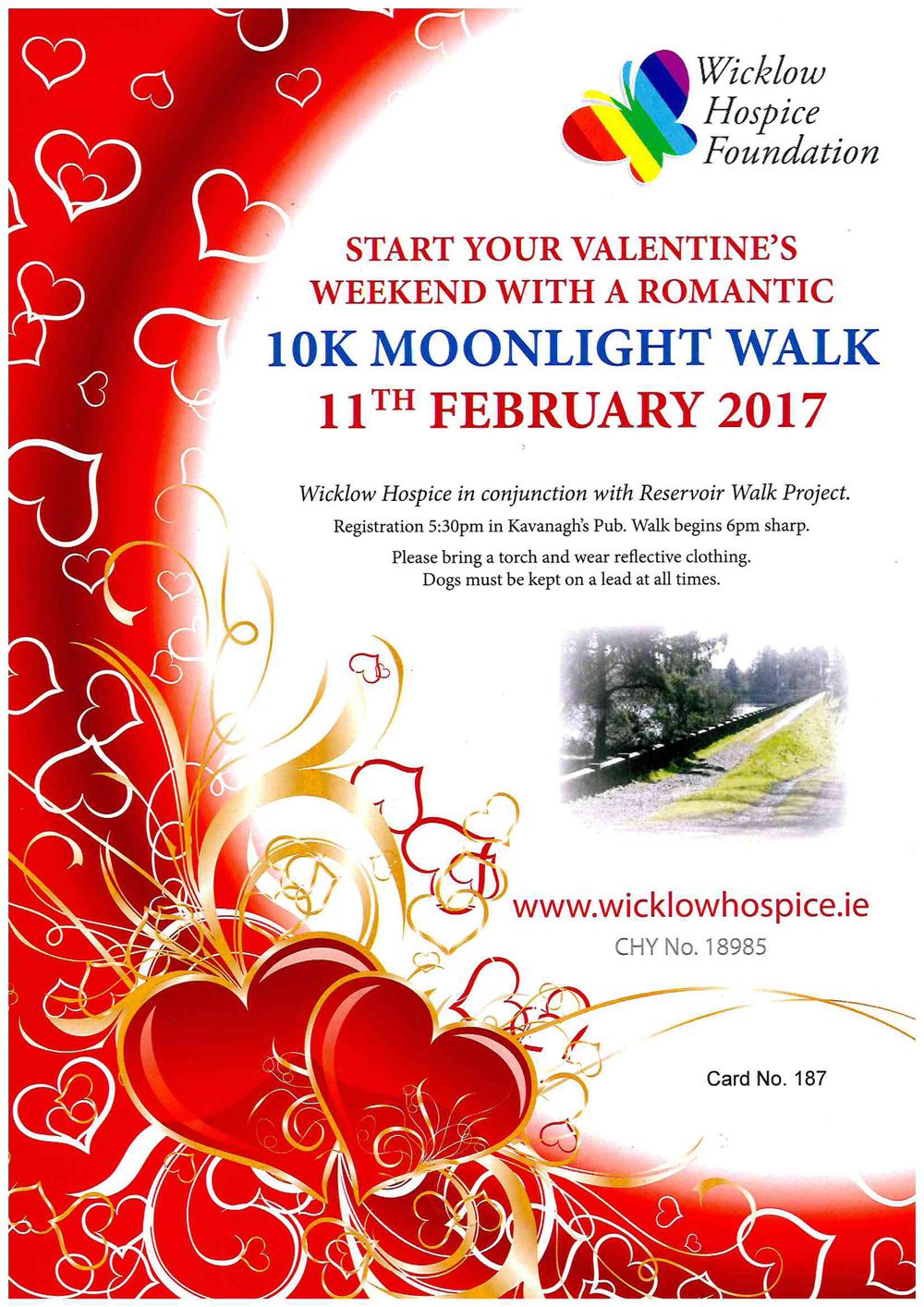 UPDATE March 2017: Glen Fuels staff helped raise €5,000 for the Wicklow Hospice on the Moonlight Walk which took place Valentine's weekend 2017.
Glen Fuels Kilmacanogue is delighted to announce that three familiar faces - Shay Cullen, Sharon Burke and Patricia O'Leary - will be participating in the Moonlight Walk 2017 in aid of Wicklow Hospice.
For the past eight years the much respected Greystones GP, Dr Brendan Cuddihy has been a major driving force behind the Wicklow Hospice Foundation. When it received cross-party support at Government level in 2016, Minister for Health Simon Harris said, ''This really is a significant milestone. It is another step toward the dream and aspiration to have a hospice for Wicklow where people can die with dignity in their community." (Source: Irish Independent). The Hospice also has the ongoing support of a number of Patrons from the county including, Daniel Day Lewis, Phil Coulter, The Hon. Mr. Justice John Murray, Katie Taylor, Chris de Burgh, Fionnuala McCormack, and Valerie Cox.
Wicklow Hospice will deliver consultant-led palliative care that draws on the expertise of a multidisciplinary team of nurse specialists, (C.N.S), doctors, physiotherapists, social workers and pastoral carers. Encompassing the mental, spiritual, physical and emotional aspect of the patient and the extended family, the ethos is to deliver the highest possible standard of care that allows the patient to maintain their dignity and quality of life when a cure is no longer possible or expected.
The project is moving forward in a very positive manner and €1M in funds are required in order to go to tender. The Wicklow Hospice Foundation will build a much needed 15 bed Hospice on the site of Maghermore which was kindly donated by the Columban Sisters.
If you would like to lend your support, please join the Glen Fuels Kilmacanogue team and Wicklow Hospice Foundation on Saturday February 11th for a 10km Moonlight Walk - hopefully we will have a clear sky to fully enjoy this full-moon night.


​
Date: Saturday February 11th
Start time: 5.30 pm
​Meeting point: Kavanagh's Vartry House, Roundwood
​The route: Lower Vartry Reservoir in Roundwood
​Registration: Click here
​What to wear: Click here
Useful links for futher information about Wicklow Hospice Foundation: Irish Independent, Wicklow News​