News » Run the Republic - the results are in
2017-03-21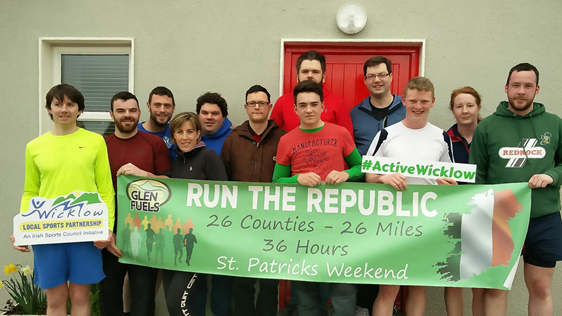 Success at Run(ning) The Republic - everybody got around to each of the counties safely and had a wonderful time.
The runners started out on Friday morning at 8 a.m. and ran a mile in Wicklow and Wexford, followed by Waterford and Killeny before heading to Carlow/Laois border to complete those two counties.
Then it was off to take in the Munster counties - Waterford and Tipperary were completed together before piling into the cars for the Cork/Kerry border. At this stage it began to rain for the rest of the day. Clare/Limerick was the next stop off with this completing the last of the Munster counties.
Next in line were the Connaught counties with some off these being tough miles. The Galway/Roscommon border was the first one completed and then back into the cars for a short journey into Mayo to complete the mile run there. The crew in Sligo at 8 p.m. for an overnight stay. An early Saturday start saw stiff and tired bodies kick off at 8:30am after plenty of stretching. The Leitrim/Donegal border marked the finish line for Connaught and the starting line for Ulster. After a two hour drive down to the Monaghan/Cavan border, Ulster was ticked off the list.
At this stage everybody felt as do they were on the home stretch with only five counties left to complete. Longford and Westmeath were first up followed by a 90 minute drive to Drogheda which took in a mile in Meath and a mile in Louth. With only one mile left to complete the gang headed to Dublin Airport.
The entire group was very tired at the end of it, but even more delighted for what had been achieved. A total of 12 people set out in three cars and all were delivered home safe but sore.
Glen Fuels - sponsors of Run the Republic, to bring kids with special needs to Lourdes for Easter 2017.