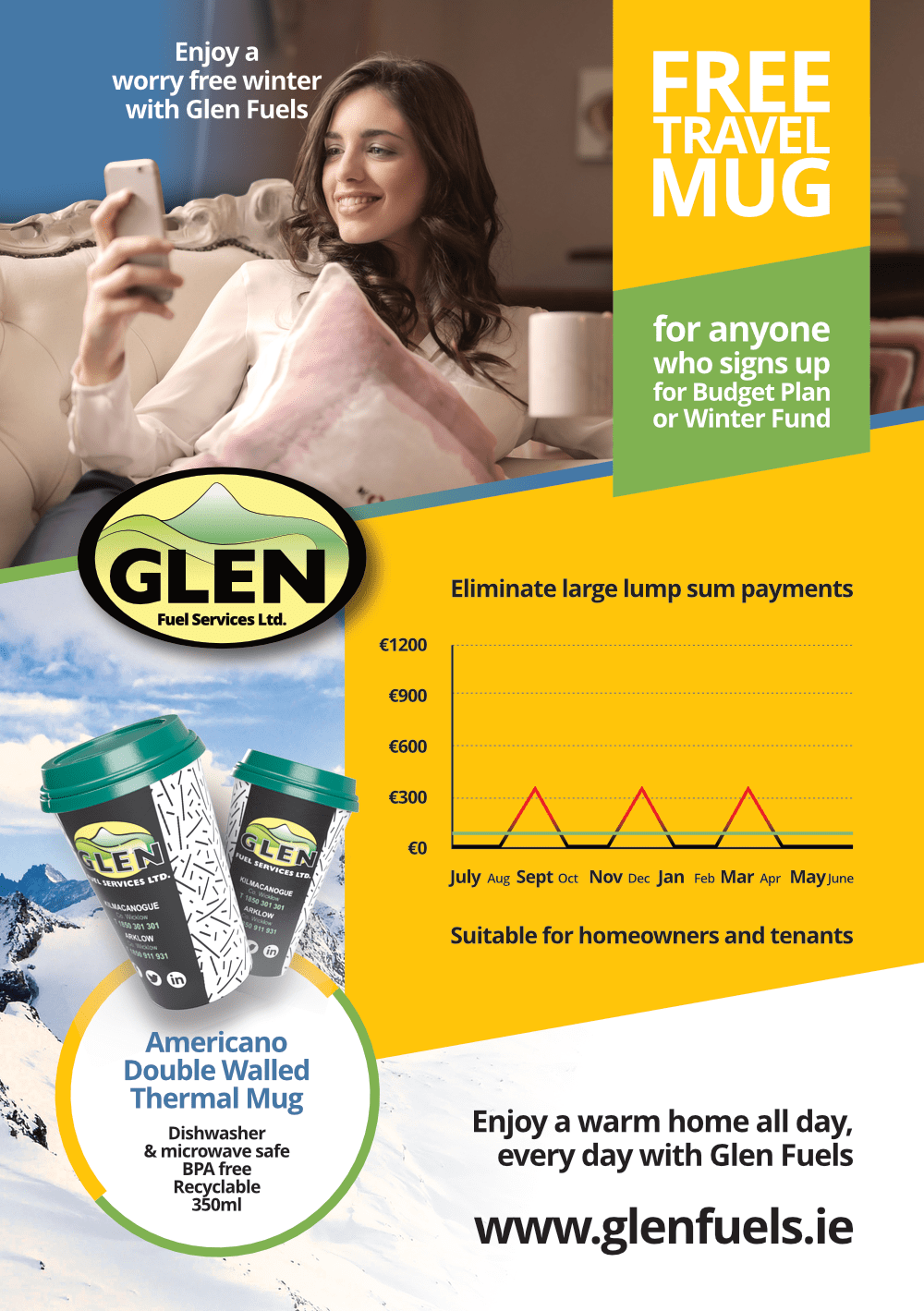 Budgeting Saves You Money
In every single household the primary cause of stress is money. Most people work hard and earn a good wage but struggle to save money, pay bills and enjoy life.
A heating oil budget enables you to save for important things such as holidays, a car, your first home or home renovations, your retirement and much more including starting your own business or buying an investment property or a holiday home.
"...ensures that you will always have enough money for the things you need and the things that are important to you." (My Money Coach)
As a smart householder, you're on our Budget Plan.
Non budget plan households experience stressful spikes in heating oil bills in September (when school expenses kick in), in December (when you're buying for Christmas) and in March (when you want to book the summer holidays).
Download the Budget Plan Application Form, click here.
---
Today's Loose Change Pays for Winter.
Pay €300 deposit and receive 500L.
Pay minimum of €90 a month (€3.00/day).
Your local depot can guestimate the best monthly payment for you.
Runs from July 1st 2018 to June 30th 2019.
Based on average usage of 1300L.
Direct debit is called on the 5th or 20th of the month.
Suitable for homeowners.
Suitable for tenants.
---
Good Financial Planning Spreads Costs
As Irish winters lurch from one storm to another, scientists are now considering the possibility that Ireland will experience cold, stormy winters annually.
Because the Budget Plan is flexible, Glen Fuels customers can increase or decrease the monthly direct debit to reflect actual usage.
The Glen Fuels accounts department reviews each Budget Plan account in December and June.
A customer can cancel the contract at any stage or let the direct debit run so the account is always in credit.
---
Glen Fuels - Delivering a Worry-Free Winter
The benefit of participating in a Glen Fuels budget plan ensures that you will receive the following advantages:
Peace of mind that your home heating oil has been paid for in advance.
Satisfaction that top quality oil is going into your tank each time you top-up.
Knowledge that a set amount leaves your bank on the same date each month.
The ability to save for life's events with our interest-free monthly payments.
Stress-free automatic payments via direct debit on a date chosen by you.



---
Cheapest Home Heating Oil in Ireland
Complete pages 2 & 3 of our application form, click here. Click for terms and conditions.
Post the form to Glen Fuel Services Ltd., Kilmacanogue, Bray, Co. Wicklow.
Please also feel free to contact your local depot for further information.


Family Fuel Card
Complete control over your family's fuel usage.
Savings at the pump.
List up to four vehicles (van, jeep, car, motorbike) under the one account.
Nominate parents, grandparents, carers, child minders and students.
---
Annual Boiler Service
... paid over 12 months!
"What's the worst that can happen if I don't service my boiler?"
A serviced boiler saves lives
A serviced boiler burns oil cheaply
A serviced boiler saves money on repairs
A serviced boiler is a home insurance requirement
An annual boiler service costs €120 or just €10 a month when tagged onto the Budget Plan.
FREE with Budget Plan
Our Budget Plan is suitable for all our home heating oil customers including
homeowners and renters.
Every Drop, Delivered
Our drivers arrive on time and every drop of kerosene or gas oil you have paid for is pumped into your tank from our state-of-the-art fleet of lorries with NSAI calibrated metres.
Your Warm Home
Our family-friendly payment options are designed so you can enjoy a warm home all day, every day!