FAQs
I have eight inches of oil in my tank, will I run out tonight as it's very cold?
You should not run out of oil tonight. You may run out depending on the distance from your tank to your burner, the height differential from your tank to the burner and the capacity of your tank. You should contact your local depot for a delivery as quickly as possible.
Do you sell and install home heating oil tanks?
We sell single and double skin home heating oil tanks.
We work with a number of OFTEC registered installers.
Can I tell how much is in my oil tank at any time?
The most accurate means of checking the oil level in your tank is with the Magnus™ Monitor.
Magnus™ Monitor is accurate to -+ 1cm and the information is sent to an app on your phone.
Magnus™ Monitor is free for Budget Plan customers; available at a reduced rate for Magnus™ Homes customers; and available to buy outright.
I am moving my tank. Can you pump out the oil that's in it?
Unfortunately due to health and safety legislation we are not authorised to pump out oil. We do however have a panel of subcontractors who can perform this service for you.
What Is the Difference Between Bunded and Single Skinned Oil Tanks?
There are two types of oil storage tanks.
Single skinned oil tanks have one layer of plastic, in which the oil is stored. Some county councils have banned single skinned tanks. Some insurance companies will not pay out if a single skin tanks leaks.
A bunded oil tank can be thought of as a tank within a tank, as it has two layers of plastic. This offers double the protection for the oil within your tank, reducing the risk of leaks causing ground or building contamination.
What is the lifespan of an oil tank?
We recommend considering a replacement after 10 years. Depending on the tank's location (exposure to sun and the elements) and how it has been treated by its owners, the tank may have a longer or shorter lifespan.
We recommend that you get your oil tank rechecked by an OFTEC certified installer once a year for possible signs of rust, pipe clogs or oil inefficiency. This can be carried out in conjunction with your boiler service.
What size oil tank should I buy?
When buying an oil tank, we recommend you consider: how much oil you use each year, how much outdoor space you have, the number of family members, how often you use the heating and immersion each day, etc.
Normally, residential heating oil tanks are sized 900-1,250 litres with an allowance of 500 litres per bedroom is a good point of reference. The average Glen Fuels customer will use 1,300 - 1,500 litres of heating oil per year.
Oil tanks for commercial or industrial use will require substantially larger capacity.
If you are unsure about the size you need, please contact your local Glen Fuels depot.
How do I protect my oil tank against theft?
To discourage oil theft from your tank:
Hide the tank behind a screen (never plant shrubs or ivy to conceal an oil tank)
Apply locks to all caps and vents
Install the Glen Fuels Magnus™ Monitor System which will send an alert to your phone and to Glen Fuels if there is a sudden drop in the oil level.
If the tank is in a holiday home, keep the oil level low enough and schedule regular small drop top-ups.
What is on an oil tank installation checklist?
Before installing a new oil tank, consider the following points:
Proposed location of the tank should be a level and solid foundation with safe accessibility for the delivery driver.
Follow correct installation steps to maintain tank warranty.
Remove and dispose of an old oil tank in an environmentally friendly way.
Is an oil tank flame retardant?
Oil and plastics are fire hazards. It is not possible to make oil flame retardant.
Always keep fire well away from an oil tank. Position the oil tank on a slightly raised area of ground. An oil tank should always be located at least 1.8m from the nearest non-fire rated building or, if not possible, a 30-minute firewall is required, which must extend 0.3m above and beyond both ends of the tank.
How do I maintain and service my oil tank?
As a homeowner, landlord or tenant you are responsible for ensuring the oil tank on your property is fit for purpose. Checks and repairs should be carried out at least once a year.
We recommend an annual oil tank inspection which looks for rust, damage and cracks, and which ensures all mechanisms and tank gauges are working correctly. If in doubt, please contact an OFTEC certified installer to carry out a professional inspection and service. This can be done at the same time as the annual oil boiler service.
Oil tanks should be cleaned out every 3-5 years, depending on household size and tank use.
Should I clean my oil tank?
We recommend the oil tank is cleaned out once every 3-5 years, depending on household size and tank use.
This should be done by an OFTEC certified professional who is able to remove and replace oil (unless the tank is empty), dispose of the oil tank contents safely and legally, and bleed the boiler.
What is a bunded diesel tank?
Bunded (or double walled) is the technical term for a tank within a tank design. The Kingspan Titan bund is designed to catch at least 110% of inner tank contents in case of failure of the inner tank or overspill.
How and where should I store diesel fuel?
The diesel tank should be delivered ready for installation. It should be installed on a concrete levelled base. Electrical connections must be completed according to local regulations by a qualified electrician.

The diesel tank should be positioned at least 10 feet away from a residence, under cover and out of direct sunlight to avoid water pooling on top of tank and evaporation of the product.

Can I store diesel in a plastic container?
Diesel should be stored in a specialist tank designed for storing diesel.
At Glen Fuels we always recommend a bunded diesel storage tank.
What size diesel tank do I need?
The size of your fleet size, mileage and industry will determine the correct tank size to service your commercial vehicles.
For assistance, please contact your local Glen Fuels depot as we have been delivering diesel to commercial customers for more than 35 years.
How often should my diesel tank be serviced?
Diesel tanks should be serviced annually. Consumable parts should be services as soon as you notice wear and tear.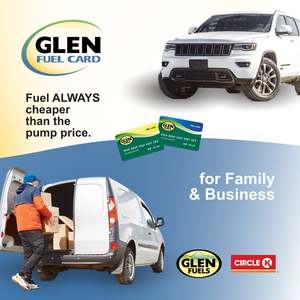 Glen Fuel Card
For personal and professional use.
Discounts at Glen Fuels and Circle K:
Unleaded and diesel
Adblue and lubricants
Car wash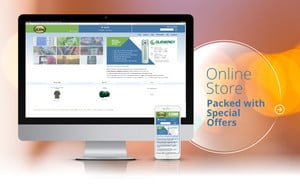 Delivering Nationwide
Range Cooker Additive
Lubricants
AdBlue
Oil Tanks
Diesel Storage Tanks
Magnus™ Monitors