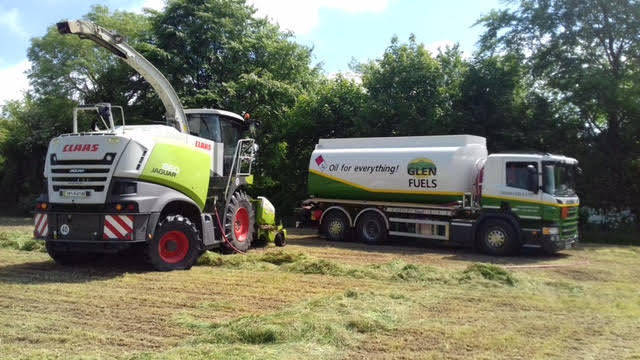 Wear and tear, coastal Irish air, fertilisers and sprays can have a detrimental effect on the performance and lifespan of farm machinery.
Glen Fuels has access to thousands of lubricants from quality suppliers:
Protect agricultural machinery against rust and corrosion
Guarantee warranties
Improve the energy efficiency
Give you peace of mind that consistently high quality tractor engine oil grades are being applied to your investments
Greases and Oils:
We stock and deliver a wide range of lubricants that cover heavily loaded engines, transmissions, brake and clutch systems, wet brakes and hydraulic pumps.
Glen Fuels carries the full range of agricultural lubricants and if an item is not in stock we will have it within five working days.
With the latest demands on new tractors to conform to emission standards, Glen Fuels offers a range of low SAPS (ash) oils which meet the latest specifications from top manufacturers.
Next Day Delivery:
Our mixed fleet can deliver 500 litres to 37,500 litres to businesses in Dublin, Wicklow, Wexford, Waterford, Carlow and Kilkenny.
For smaller quantities and nationwide delivery, please visit Glen Fuels Store.
If you have a particular request, such as food grade or pharmaceutical greases, please contact us directly for assistance.
Dairy farmers can cut hot water bills by 66% with the Glen Fuels hot water heat pump.
High quality lubricants at affordable prices improve efficiency, reduce emmisions and guarantee warranties.
You can use your Glen Fuel Card to buy AdBlue at Circle K service stations and at Glen Fuels depots. AdBlue drums, barrells and 1,000L cubes are available from Glen Fuels at depots and our online store.
The Glen Fuels mixed fleet delivers sulphur-free gas oil (SFGO) for off-road vehicles up to 37,500 litres per delivery.
Glen Fuels has bunded and single skin home heating oil tanks for sale with nationwide delivery.
Exocet Cooker Additive is a range cooker requirement keeps the burner cleaner for longer and delivers hours of uninterrupted cooking and heat.
With a state-of-the-art fleet operating out of five depots, we deliver quality home heating oil quickly.
Fill your own drum or pick up a 20 litre prefilled drum of Gas Oil or Kerosene - available at the Kilmacanogue and Gorey depots.
Glen Fuels recommends an annual oil boiler service for more heat output and smaller oil bills.
I purchase all my diesel and lubricants from Glen Fuels because of their efficiency, competitive prices and very friendly staff.
By Farmer, Wexford
Now Delivering Nationwide
Range Cooker Additive
Lubricating Oils
AdBlue
Heating Oil Tanks
Diesel Storage Tanks
Renewble Energy Technologies
Eliminate Fuel Fraud
Glen Fuel Card:
Fuel fraud software
Driver security software
Detailed invoicing
Exclusive pump prices
Fixed weekly price
No hidden charges
Accepted nationwide
Match card to car

Insulation
Oil and Renewable Central Heating
Energy Rated Appliances
Kick the Car to the Curb
Generate Your Own Energy
The Cost of the Little Red Light
To download your FREE Glen Fuels eBook, click here.